Bonjour,
Hello,
En observation solaire Ha, déjà pour des captures de protubérances à moyenne résolution, les temps de pose s'allongent et la turbulence devient difficile à figer.
In solar Ha observation, already for the imaging of protuberances at medium resolution, the exposure time increases and the turbulence becomes difficult to freeze.
Solution: augmenter le gain à la capture, au prix d'une augmentation du bruit.
Solution: increase the gain at the time of capturing data, at the cost of increasing noise.
Voici le résultat d'essais d'imagerie de protubérances sous Avistack2, pour 5 captures de 60s.
Here, some results of protuberance imaging under Avistack2, for 5 captures of 60s.
Le gain a été poussé progressivement, permettant de réduire le temps d'exposition. Il est à noter que des temps d'exposition longs ne permettent pas d'utiliser la cadence nominale de la caméra: 30i/s.
The gain has been pushed up step by step, allowing an exposure time reduction. Note that longer exposure times don't allow exploiting the nominal frame rate of the camera: 30fps.
Avi Cap100001 Cap100003 Cap100005 Cap100007 Cap100009
Gain 180(Min) 400 600 800 1023(Max)
Exposure [s] 0.100 0.067 0.026 0.014 0.006
Exp Qty 434 594 1793 1798 1800
Une trame brute. Le bruit augmente de capture en capture:
One raw frame. Noise increases from sequence to sequence: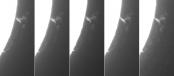 Addition de 64 trames par point d'alignement. Avistack2 gère sans problème 20 à 30 points d'alignements sur la protubérance, quelque soit le niveau de bruit:
Stack of 64 frames per align point. Avistack2 manages with no problem at all 20 to 30 align points on the protuberance, what ever the noise level:

Un traitement par ondelette fait ressortir les détails. Les mêmes valeurs ondelettes ont été appliquées sur chaque image; le bruit ressurgit...
A post processing by wavelet help to push out the details. The same wavelet parameters are applied on each picture; noise re-emerge…

Le bruit peut cependant se gérer par des softwares spécifiques, ici Neat Image avec des paramètres auto-calibrés:
Noise can however be managed by specialized software, here Neat Image with auto-calibrated parameters:

Données d'observation:
Observation's data:
2010-Apr10
Takahashi/FS-60C
Powermate 2.4x
F [mm] 355 x2.4
D [mm] 60
Coronado SM60
TIS/DMK31AF03
Exp Qty: Target: 1800 (60s x 30fps)
Alexandre